[ad_1]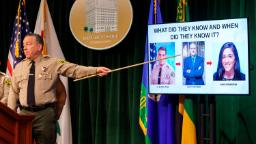 On Tuesday, he alarmed press freedom advocates by criticizing him at a news conference and noting that a Los Angeles Times reporter is under a criminal investigation. Later in the day he tried to retract his teasing comments, but it is important to understand the background, including Villanueva's highly controversial behavior and his attacks on the media.
Villanueva has repeatedly singled out Los Angeles Times reporter Allen Chekmedian, who does her job only by covering his administration. Tchekmedyian published a series of stories about an incident in which a deputy knelt on an inmate –
Including an article on Monday
Regarding the allegation that Villanueva was involved in the cover-up.
At Tuesday's press conference, Villanueva showed and referred to the photo of Chekmedian, as well as one of his political rivals and the chief inspector general of the police. The arrows imply a connection between the three. Villanueva referred to a video of the incident obtained by Chekmedian as "stolen property". He announced that he was investigating "all parties" involved in the matter. When repeatedly asked whether Chekmedian was specifically under investigation, Villanueva replied that "all parties to this business" are under investigation.
But after widespread condemnation and a warning from the newspaper's general counsel, Villanueva somewhat retracted his remarks. "As a result of the massive frenzy of misinformation circulating, I must make clear at any time today that I did not mention that the Los Angeles Times reporter was a suspect in a criminal investigation," the Los Angeles County Police Department
Tweet Tuesday night
. "We have no interest in pursuing or pursuing criminal charges against any journalist," he added.
Notably, Villanueva appears to have put a straw man here. There is a difference between being investigated and suspected of being investigated as criminal charges can be brought against the person. The first was reported by news agencies, not the last …
"Abuse of your official position"
Hours before the department tweeted, Los Angeles Times General Counsel Jeff Glaser wrote to the mayor a scathing note. Glaser described Villanueva's comments as "a disguised attempt to intimidate 'Chekmedian' into giving him indifferent (but perfectly accurate) information about the behavior of individuals in your circle and allegations of a cover-up by you and other officials.
This was an "abuse of your official position that threatens to expose you and the county to legal liability," Glaser said. He demanded that the department "retain all documents relating to any 'investigation' of Ms. Chekmedian or any other Los Angeles Times employee in this regard."
You can read the full message here…
Press chase history
This isn't the first time Villanueva has made it a target for the press, like Ian Spiegelman of L.A. Mag.
Written earlier this month.
He has objected to Tchekmedyian before. Los Angeles Times
Remember what happened last year?
Where the mayor's department refused to talk to her. The news said, "The ministry suggested that it would answer the questions of 'any other Times reporter.' The Times refused to assign a new reporter the story."
widespread denunciation
>> Los Angeles Times editor-in-chief Kevin Merida said Villanueva's attempt "to criminalize news reporting goes against well-established constitutional law…"
>> Robert Garcia, mayor of Long Beach City, in Los Angeles County,
He said he was
"A clear attack on a free press and incredibly dangerous" and called on other elected officials to "deplore this behavior and stand up to these actions by the sheriff…"
>> The Reporters Committee for Freedom of the Press called Villanueva's move "beyond the pale" and a violation of the First Amendment, and condemned it "in the strongest terms…"


[ad_2]