[ad_1]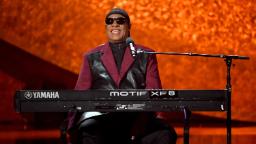 dad: Calvin Judkins
Mother: Lola May Hardaway
marriages: Tomica; Robin Brassey (2017–present); Karen "Kay" Millard Morris (2001–October 5, 2015, divorced); Serita Wright (September 14, 1970-1972, divorced)
Children: With Tomica Robin Brassey: Nia & Zia; With Kay Millard Morris: Mandela Kadjali and Kayland; With Melody McCauley: Excellent; With Yolanda Simmons: Keita and Aisha; Mothers' names not available to the public: Kwame and Sophia
education: Michigan School for the Blind
Other facts
Born prematurely, doctors believe he went blind when he was accidentally given too much oxygen in his incubator.
She learned to play the piano, drums and harmonica at the age of 9.
His first stage name was Little Stevie Wonder.
Wonder is one of six children. His siblings use the last name Hardaway. According to his mother's licensed biography, Wonder's surname was legally changed to Morris, an "old family name" when he signed with Motown, and Berry Gordy gave him the stage name Wonder.
timetable
1961 – He signs a contract with Motown.
1963 – Their first top chart, "Tips, Part 2", and the album "The 12 Year Old Genius" were released and reached number one.
1971 – The contract with Motown expires. Wonder negotiates full technical control before re-signing.
August 6, 1973 – In a semi-fatal car accident.
1974 – Wins Grammy Awards for:
1975 – Wins Grammy Awards for:
1977 – Wins Grammy Awards for:
1985 – It won an Academy Award for Best Original Song, "I Just Called to Say I Love You" from "The Woman in Red."
1986 – He won a Grammy for Best R&B Vocal Performance, Male for "In Square Circle".
1996 – Wins Grammy Awards for:
1996 – Received a Grammy Lifetime Achievement Award.
1999 – Wins Grammy Awards for:
2003 – Won a Grammy Award for Best R&B Performance by a Duo or Group with Vocal – "Love's Need of Love Today" – with Take 6.
2004 – Received a Billboard Century Award.
2006 – Wins Grammy Awards for:
December 2009 – He was appointed as the United Nations Messenger of Peace in honor of the International Day of Persons with Disabilities.
March 6, 2010 – Receives the National Medal of Arts and Letters from the French Minister of Culture. Originally awarded to Wonder in 1981, schedule conflicts delayed the show.
Sep 20 2010 – He speaks before the United Nations World Intellectual Property Organization about the need for better copyright laws to improve access to audiobooks for visually impaired people.
June 13, 2011 – Inducted into the Apollo Legends Hall of Fame.
February 10, 2015 – "Stevie Wonder: Songs in the Key of Life – An All-Star Grammy Salute" takes place at the Nokia Theater in Los Angeles with artists like Lady Gaga, Beyoncé and John Legend performing songs from Wonder's plentiful music catalog.


[ad_2]