[ad_1]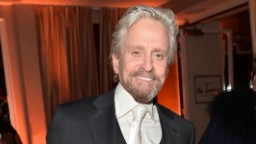 Mother: Diana (Dell) Douglas, Actor
marriages: Catherine Zeta-Jones (November 18, 2000-present); Diandra (Locker) Douglas (1977-2000, divorced)
Children: With Catherine Zeta-Jones: Carys Zeta, 2003; Dylan Michael, 2000; With Diandra (Locker) Douglas: Cameron 1978
education: University of California, Santa Barbara, BA in Theater, 1968
Other facts
The eldest son of Hollywood legend Kirk Douglas, with whom he appeared in two films, "Cast a Giant Shadow" and "It Runs in the Family". He also starred in "It Runs in the Family" by his son Cameron Douglas and his mother, Diana Douglas.
timetable
1969 – Debut in the movie "Hail, Hero!"
1972-1976 – Stars in the TV series "Streets of San Francisco".
1976 – He won the Academy Award for Best Picture for "One Flew Over the Cuckoo's Nest" as producer.
1988 – He won the Academy Award for Best Actor for "Wall Street".
November 7, 2003 – The Supreme Court orders Hello! A magazine pays Zeta-Jones and Douglas £14,600 (about $24,000) in compensation for publishing unauthorized wedding photos.
January 2011 – Douglas announced in an interview with "The Today Show" that his cancerous tumor is gone.
May 26, 2013 – "Behind the Candelabra," Douglas' first role since he announced he beat throat cancer in 2011, debuted on HBO.
August 28, 2013 – Representatives of Zeta-Jones announced that the couple "take the time to evaluate and work on their marriage."
September 2013 – He won an Emmy Award for Outstanding Lead Actor in a Miniseries or a Movie for Behind the Candelabra.
[ad_2]