[ad_1]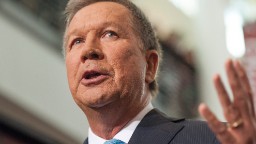 Birth name: John Richard Kasich Jr.
dad: John Kasich Sr., mail carrier
Mother: Anne Kasich, postal worker
marriages: Karen (Waldbilij) Kasich (1997-present); Mary Lee Griffith (1975-1980, divorced)
Children: With Karen Kasich: twins Emma and Reese
education: Ohio State University, B.A. in Political Science, 1974
religion: Christian
Other facts
The family name is pronounced "KAY-sick".
Kasich's parents were murdered by a drunk driver in 1987, a tragedy he is credited with helping him rediscover his faith.
timetable
1975-1977 – Assistant Senator Donald "Boz" Lukins.
November 1978 – He defeats incumbent Democrat Robert O'Shaughnessy to win the Ohio State Senate election.
November 2, 1982 – He was elected to the United States House of Representatives, defeating incumbent Democratic candidate Bob Shamansky. Kasich is the only Republican congressman to have defeated the incumbent Democrat.
January 3, 1983 – January 3, 2001 – He represents Ohio's 12th congressional district in the US Congress, having been re-elected eight times.
1995-2001 – Chairman of the House Budget Committee.
1998 – Kasich's book "Courage is Contagious" was published.
2002-2007 – Presenter of "From the Heartland with John Kasich" on Fox News.
2006 – Kasich's book Standing Up For Something: The Battle for the Soul of America is published.
2010 – Published every other Monday: Twenty Years of Life, Lunch, Faith and Friendship, written with Daniel Besner.
November 2, 2010 – He defeats incumbent Democrat Ted Strickland to be elected governor of Ohio.
Jan 10, 2011-January 14, 2019 – He is the 69th Governor of Ohio.
March 31, 2011 – Kasich signed a law limiting the bargaining rights of public sector workers – including police, teachers and firefighters – to salaries, working conditions and working hours. The law's entry into force has been postponed pending a referendum in November.
November 4, 2014 – A governor was re-elected with 64% of the vote.
25 April 2017 – His book "Two Paths: America Divided or United" was published.
October 15, 2019 – His book It's Up to Us: Ten Small Ways We Can Make Big Change has been published.
[ad_2]