[ad_1]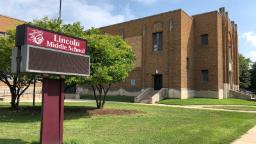 "Chief (Eric) Larsen has asked the FBI to look into the matter," Lt. Joseph Nosalek told CNN on Wednesday.
"Because of the visual similarity with
George Floyd
"He has determined that the credibility and integrity of our department are important," Nosalek told CNN affiliate WISN. "He wanted an outside agency to look into the whole incident."
off-duty officer
resigned his position
With the school district on March 16th. The Kenosha Police Department said in a tweet last month that he still works at the department.
A video of the incident in the cafeteria shows a brawl between two students starting as the officer, the school security working at the time, tries to break her up before she gets hit or falls backwards with one of the students. He appears to be hitting his head on the edge of a nearby table.
Soon, the officer is seen above the female student and seems to push her head to the ground with one hand and then put his knee on her neck
for more than 20 seconds
He appears to be exerting the pressure of his own body weight at some points.
The video shows that the 12-year-old was eventually handcuffed, picked up and led away.
Pete Deets, president of the Kenosha Professional Police Association, said Wednesday that the union would welcome "any outside agency to investigate and examine our actions."
Family attorney Drew Daveney told CNN on Tuesday that the girl is currently receiving counseling and psychological services and is undergoing physical therapy.
No decision has been announced as to whether any of the girls involved in the fight will face charges.
CNN's Brad Parks contributed to this report.
[ad_2]