[ad_1]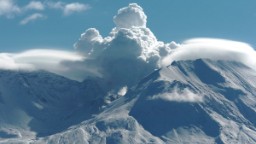 Mount St. Helens in Washington, about 55 miles northeast of Portland, Oregon, and 95 miles south of Seattle.
Over the past five hundred years, Mount Saint Helens has experienced at least four major eruptions and many smaller eruptions.
Mount Saint Helens was named by Commander George Vancouver for British diplomat Allen Fitzherbert, whose nickname was Baron Saint Helens.
timetable
1792-1794 – The mountain was named while Commander Vancouver surveyed the North Pacific coast.
1857-1980 – Inactive.
May 18, 1980 – Explodes.
Hot ash causes forest fires. Snow melting from the top of the mountain causes flooding.
Volcanic ash spreads across the northwest. More than 900,000 tons of ash are being cleaned from areas around Washington.
1980-1986 – Many small eruptions occur.
September 2004 – Several days of unusual seismic activity led seismologists to believe that an eruption caused by a buildup of steam was likely to occur.
March 8, 2005 – It shoots out a plume of smoke and ash nearly six miles high, leaving a visible plume of more than 50 miles.
[ad_2]