[ad_1]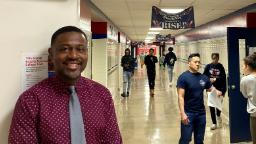 President and First Lady Jill Biden will honor Kurt Russell, the veteran Oberlin High School teacher who was named Teacher of the Year by the nonprofit Public School Presidents Council, during a ceremony at the White House for State and National Teachers of the Year. .
The selection comes as a nationwide conservative-led effort has successfully moved forward over the past year to stifle discussions of race, gender and gender identity in the classroom.
Russell teaches elective courses in African American history as well as race, gender, and oppression — a class that the CCSSO says he developed. He is also a college basketball coach and serves as a faculty advisor for the school's black student union.
Talking to
"CBS Mornings"
After being named Teacher of the Year, Russell said he deals with race in the courses he teaches "because it's my responsibility to provide my students with a comprehensive opportunity to learn."
He said that inclusive and diverse education begins with the school's faculty and "within the curriculum as well, making sure that students see themselves in the curriculum…I think that's how students get involved."
Conservative-led efforts target schools, children, parents and teachers
Florida's efforts in particular have struck a chord in the Biden administration.
These actions are part of a broader effort by conservatives to make it more difficult for transgender and non-binary Americans to receive gender-confirming health care, exercise or change their birth certificates and other identification documents to match their gender identity. LGBT advocates say that allowing people to use non-binary gender tags can reduce the risk of harassment and discrimination they experience when their perceived physical appearance does not match the genders on their identity documents.
Teachers under pressure
Advocates argue that teachers in America remain under enormous pressure in the wake of the stresses of the coronavirus pandemic.
When adjusted for inflation, American teachers bring home $2,179 less annually, on average, than they did a decade ago, according to an NEA report.
CNN's Chris Boyet, Paul LeBlanc, Andy Rose, Tina Burnside, Zoe Suttle, Nicole Chavez and Faith Karimi contributed to this report.
[ad_2]