[ad_1]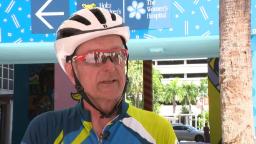 MIAMI (CBSMIAMI) – A cancer survivor walks his way through Florida to highlight bone marrow donation.
Bob Falkenberg is a volunteer and stem cell postal for Be the Match because he wants to help others follow what he's done.
Read more: Boca Raton woman pleads guilty to DUI manslaughter and vehicular murder in the death of her grandmother and grandson
He's in the process of cycling 600 miles to raise money and awareness. CBS 4 met him outside the Jackson Memorial Hospital in Miami.
"I started in Jacksonville, at the Mayo Clinic in Jacksonville, and this is day seven of the trip," he said. "We have three days left to get to Key West."
For him, the journey is personal.
"13 years ago, I was diagnosed with a very aggressive form of leukemia," he explained.
Falkenberg needed a bone marrow transplant, and after months of chemotherapy, he got a match.
He said, "You rate your life when you are faced with odds like this, when you have 50-50 fewer chances of achieving them." "So I made a commitment at the time that, if I lived in it, I would spend as much of my time, as much as I could, trying to help people."
He was able to do this by riding a 'Bay Mile' with the benefit of Be the Match. From Colorado, he visits as many farming centers as possible by bike.
Read more: Police: 2 shots at Robbery's Lauderhill Swap went wrong
In fact, this is not his first long tour. He also cycles from Minneapolis to Boston to Jacksonville. That trip took two months.
It was working as a stem cell courier that brought him to Jackson Memorial Hospital, when he learned of their participation in the Dolphins Challenge Cancer event.
"I see all these cycling jerseys on the wall, and I said, 'We have to get these guys on! "
Dr. Edward Della Zigga was one of them. He specializes in stem cell transplantation in the Clinic of Pediatric Oncology and Hematology at Sylvester Cancer Center.
"Some parents are having to quit their jobs. They are going through a lot of social and economic issues," Dr. Della Ziga explained. "If I could ride a few miles, have some body aches, and make some money for them, I think I would."
He continued, "Today, I was taken care of by three families that I was taking care of in our center." "Today, we raised more than $20,000."
All money goes to the Patient and Family Support Fund.
One of the messages they hope to spread is the need to register people, particularly those of African Americans, Asian Americans, and Latin Americans. They say they are usually underrepresented in the registry.
More news: Florida Governor Ron DeSantis sets property insurance hearings
click here To learn more.
[ad_2]