[ad_1]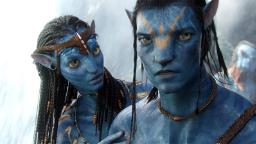 Director James Cameron returns to
directly
The long-awaited 2009 sequel, "Avatar: The Way of Water".
Disney unveiled new footage of the movie at CinemaCon at Caesars Palace in Las Vegas on Wednesday, with guests
He reportedly got 3D glasses
To Watch.
"Avatar: The Way of Water" will follow the Sulli family as they fight to survive.
The movie's first trailer will be shown in theaters ahead of Marvel's "Doctor Strange in the Multiverse of Madness" on May 6.
The sequel stars Sam Worthington, Zoe Saldana, Giovanni Ribisi, Sigourney Weaver, Stephen Lang, Kate Winslet, Vin Diesel, Michelle Yeoh, Eddie Falco, Cliff Curtis and Jimmyn Kleiman.
To build anticipation for the movie, Disney is set to re-release "Avatar" in theaters on September 23.
"Avatar: The Way of Water," the first of four planned series, is slated to release on December 16.
[ad_2]