[ad_1]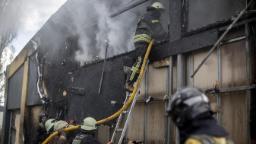 Here's what you need to know Get up to speed and go about your day.
(You can deliver "5 things you need to know today" to your inbox daily.
Register here
.)
1. Ukraine
As part of the second phase of the invasion, Russian officials say they are actively trying to secure all of eastern Ukraine. Russian President Vladimir Putin warned yesterday that any country that interferes in Ukraine will meet with a
Moscow's 'swift' response
. This comes as Ukrainian officials said that almost the entire territory of the Luhansk region was bombed in the past 24 hours. In Kherson, there were reports that the Russians would organize
form of referendum
On whether the southern region should become an independent republic, but a certain official from Russia said its return to Ukrainian control was "impossible" and could
Rule out a referendum
to decide its future. separately ,
Canadian legislators
Yesterday, it voted unanimously to recognize the "acts of genocide" committed by Russia in Ukraine. However, the Kremlin continues to deny any involvement in the mass killings of Ukrainian civilians.
2. Corona virus
3. Disney
4. Capitol riot
5. Dehydration
Browse breakfast
9 of the best wellness resorts in the world
A rare blue diamond sold for $57.5 million at auction
Hailey Bieber says she underwent an operation to close a hole in her heart after a mini-stroke
Millennials are way ahead of their parents in retirement savings
1 out of every 5 species of reptiles is threatened with extinction, including turtles
day number
7 billion dollars
Today's quote
"You can't release these Americans for free. There is always a price, but it was worth it."
Today's weather
Finally
It's National Superhero Day
[ad_2]